Hennessey Special Vehicles LLC partners with Grand Touring Automobiles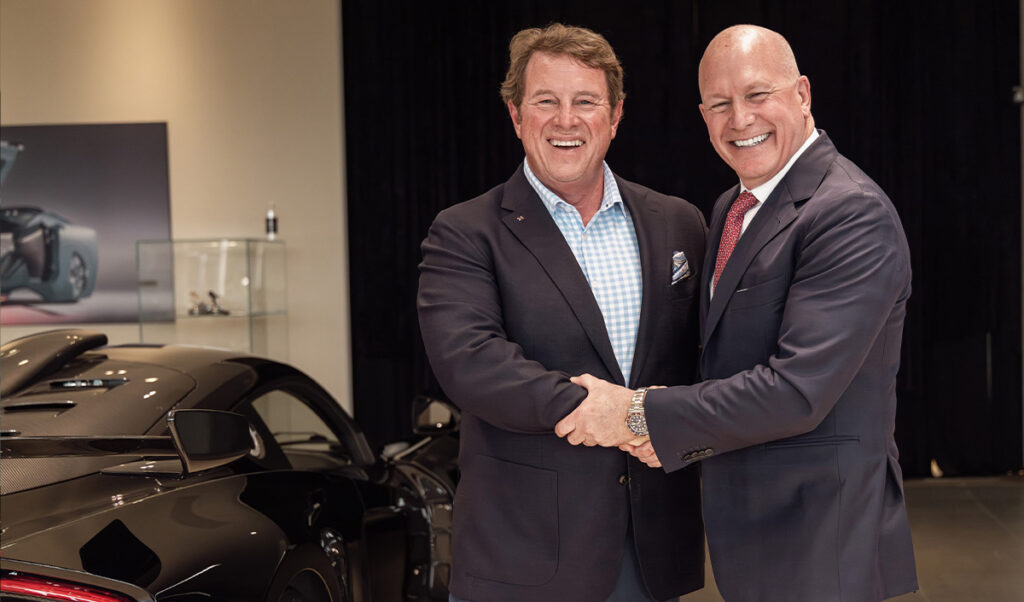 Located in Sealy, Texas, Hennessey Special Vehicles is set to take on the Canadian market in Toronto with Grand Touring Automobiles as they feel the city is well-placed demographically and geographically to cater to discerning Hennessey customers. For over 30 years, Hennessey has been pioneering innovation with an impressive record of re-engineering over 12,000 vehicles since its inception. Each Hennessey undergoes meticulous dyno-testing and thorough track trials and carries full street-legal status with warranty coverage. Their expertise has extended to sports, muscle cars, trucks, SUVs and the illustrious Venom G.T. and Venom F5 hypercars.

The specifications of the Hennessey Venom F5 Revolution are simply astounding. With a weight of 3,048Ibs made up of bespoke carbon fibre monocoque construction and a hand-built 6.6L V8 twin-turbo engine that jacks up 1,817 hp, this beast can hit a top speed of 250 mph effortlessly.
When the driver finds themselves in the two-place cockpit of the Venom F5, it feels no different than a pilot operating a fighter jet. Everything about the interior promotes control, simplicity and maximum driver visibility. In short, power, longevity and a visceral driving experience are what Hennessey delivered. For them, the American dream never sleeps.
We asked John Hennessey CEO and Founder of Hennessey Special Vehicles LLC, some questions about the Venom F5.
Q: What were the goals or guiding pillars when developing the Venom F5?
A: The Venom F5, upon its initial concept, was to be the fastest car in the world, and that still has not changed. We haven't done any top-speed testing in probably a year and a half with the car. In our last test session, we were in the low 270s, so I think that puts us in third or fourth place, but we're planning on changing that here in the not-too-distant future. So that was the edict for the car back in 2013 when the idea of the F5 first came about, and that still stands true today. There's a lot more to the car than just this absolute top speed. But we built and designed the car to be the world's fastest production series car.
Q: Whether it is the performance or the aesthetics, what is your favourite aspect of the Venom F5?
A: I think the part that surprises people is that they're expecting big horsepower. They're expecting big performance numbers, but I think there's an artistry to the Venom that even I wasn't expecting. Again, we designed the Venom to be an absolute speed monster. But when you look at it or the other cars that we built, there's just a lot of detail work in the carbon fibre and the design. I look at other vehicles in the marketplace and the things that are coming out — I think we just have our unique look and design to it.
Q: What is one word that you think best describes the Venom F5?
A: Raw. There are a lot of amazing electric cars that are coming out. But what we've designed in the Venom F5 is kind of the pinnacle of what you could expect from an internal combustion car. The driving experience, the sound, the visceral look, the vibration, even the smells. So, it has all of these sensory inputs that you're experiencing that you just don't get from electrification.
Q: What does the partnership with Grand Touring Automobiles mean to the Hennessey brand?
A: I met Paul from GTA out at Car Week several years ago, and I hadn't done any business with him, but I just said, "I like this guy." He's always got a smile on his face. He's always very positive and so fast-forward to [when] my youngest son Cole, who manages our dealer relations, connected with Paul and Mario Cipollone, and we quickly learned that we share a lot of similar values. Cole then came here to do a site visit and meet the team. He saw the facility and it was just kind of a natural deal. Given their presence in Western Canada, we've chosen Grand Touring Automobiles as our exclusive partner for the Canadian market. We're very excited to have them as part of the Hennessy family and glad to be a part of their family.
Here is what Paul Cummings, CEO and President of Grand Touring Automobiles, had to say about the Venom F5.
Q: What was your first impression of the Venom F5?
A: It was a lot to absorb. There's so much it offers you it kind of blew me away. But it takes you that long where you just kind of absorb and digest what you're looking at. And when John is explaining everything to you, I will say I found it overwhelming, to be quite honest. Where's this car placed? What is it all about? What's its secret sauce? All those elements! When you think of the details, the little things like the Hennessy emblem, how the hinges work for the doors to open and how you access the car, I will say that was the point where my appreciation for the Venom went through the roof. They are building something with incredible passion. But they're thinking through every element about how to make it a Hennessy and how to make it an American supercar on steroids, and that's their ambition — to make powerful, beautiful cars that you can drive every day and enjoy.
Q: Grand Touring Automobiles is known for its high-standard portfolio. What makes the Venom F5 hypercar unique within the hypercar market?
A: They're always pushing the boundaries when it comes to weight technology. From the horsepower that they can get out of the eight-cylinder engine to the aerodynamics, they're always pushing the boundaries. Hennessey always feels that there's competition, so they keep inching it up. At Grand Touring, we must answer the customer and say that we're putting you in a good car that we can stand behind, from a technology point of view, from a safety point of view and even for how it's going to fit within your family. We're not here for a sale. That's not why we're here. We're here for relationships. What I found with the Hennessy family is we have a relationship with them that I can take to our customers, and that's a huge benefit for us. This is a little family company out of Texas, building a supercar and playing on a global scale. Then, when you meet the people behind it, that's a true plus to me. They're genuine. They are not trying to sell a car; they're trying to sell their vision and put it in a car as a package. Their passion is infectious. That's what pulls me in without question. The car stands on its own two feet.
Customers in Canada interested in owning a Hennessey Venom F5 Roadster or Revolution should contact Grand Touring Automobiles at +1 416-530-1880 or visit GrandTouringAutos.com.
www.hennesseyspecialvehicles.com
www.grandtouringautos.com
@hennesseyspecialvehicles
@grandtouringautos
INTERVIEW BY MARC CASTALDO