The E550 Coupe: A New Spin on Old Design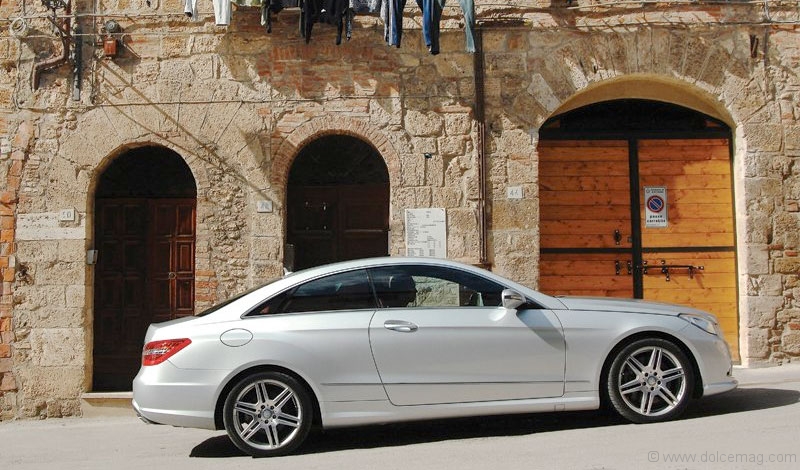 It's all about remembering your roots. That's the idea that comes to mind when thinking of luxury automobile manufacturer Mercedes-Benz. To say the company is reinventing itself is an understatement, especially after its release of a profusion of riveting designs, fixed with a touch of heritage. The new E550 Coupe is no exception. Something to take hold of, the 2010 model fulfills every desire with a body that returns to classical motifs, and a multi-functional engine worthy of a Formula One racetrack.
From its exterior, the thrilling E-class coupe resembles a lavish blast from the past, returning to the classical designs of the nearly 100-year-old company. "For Mercedes-Benz loyalists, we're simplifying our lineup and returning to where we've come from historically," says product planning manager Christopher Goczan. After drivers reported a preference for more traditional designs over recent effeminate characteristics, Mercedes-Benz went back to the drawing board. "Our designers really took that to heart, creating something more striking, dynamic and provocative in terms of emotion. I think they've succeeded." The result is a vigorous, elongated sports car with an aerodynamic look and some robust facial features – and that's just on the outside.
Taking a step into the E550's cabin, enthusiasts can take pleasure in some out-of-this-world, monumental design. Technologically speaking, there's nothing short of impressive when glancing at the multi-function steering wheel with multi-information display, SIRIUS Satellite Radio, Bluetooth and MP3 audio head unit, and available command applications with hard-drive navigation. But if you ask Goczan, he has a favourite feature of his own: "I would say the Dynamic Handling Package. There's a sport button in the car, and as soon as you push it, the suspension character changes completely, along with the power steering response and the traction and stability controls," he says, explaining that the accelerator response sharpens up considerably. "It's a kind of a Dr. Jeckyll and Mr. Hyde button that really changes the car for when you want to relax and cruise on a Sunday afternoon or if you want to take it out on the track for a quick jaunt." In light of flexible versatility, the car offers the best of both worlds.
Looking around with a keen eye for fine craftsmanship, drivers will instantly notice the 10-way power front seats with standard memory and Nappa leather upholstery. Of course, trying out the plush furnishings is something else altogether. "It's like they're in the lap of luxury," Goczan says. "These seats are some of the nicest seats we've ever put in a vehicle. They're beyond luxurious and extremely comfortable." Illuminated by natural light from a panoramic sunroof, the cabin is further enhanced by a set of no B-pillar windows for a refreshing open-air experience. "It's something we've pioneered. When it's summertime and you roll all the windows down, it looks unique. There are no other cars out there that have it."
After gawking at the E550's handsome good looks, Mercedes-Benz admirers will melt over what's under the hood. The 382-hp, V-8 engine outputs enough brute force to jump from 0 – 100 kilometres per hour in 5.6 seconds. But for owners less-inclined to visit the Autobahn, cruising at slower speeds also provides a bit of exuberance. If relaxed nighttime driving is your forte, the Adaptive Highbeam Assist is a neat toy. Using a windshield-mounted, multi-function camera, the system automatically activates and deactivates high beams, based on oncoming traffic and dark empty roads. And if that isn't enough to keep you safe, the Attention Assist analyzes driver behaviour, bellowing an alert at the sign of drowsiness or inattentiveness. "We've been the leaders in safety going right back to the development of seatbelts and airbags, and today I think we absolutely have the safest cars on the road without question," says Goczan.
Putting technology and power aside, the E550 Coupe is simply the ideal ride for an awe-inspiring experience. "There would be nothing like cruising on the Pacific Coast Highway in California or a winding road in Tuscany. That kind of breathtaking scenery, combined with spectacular roads, is the perfect setting." It would be fair to say Mercedes-Benz has done it again, returning to tradition with a sports car that's longer and wider, while flaunting state-of-the-art technology and flawless design.

www.mercedes-benz.ca