Life on the Edge: Jamaica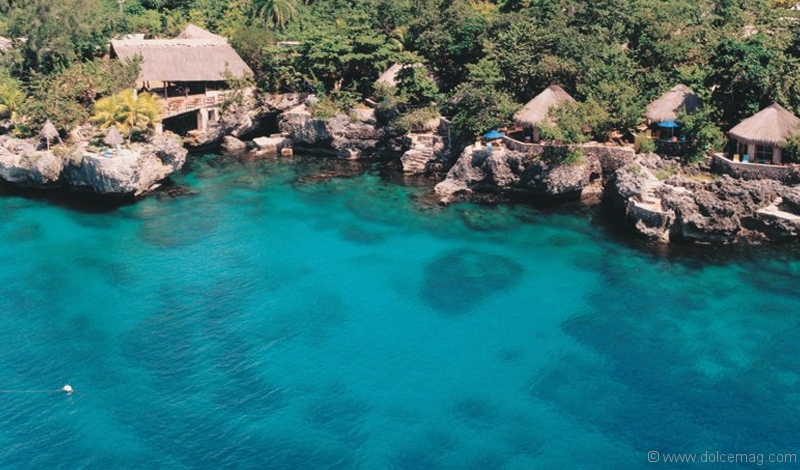 Beaches are often staples of tropical vacations. While relaxing in the sand of an all-inclusive resort can provide an escape, privacy is a rarity on larger, more populated locations. Sometimes, you simply desire solitude and a mellow mood away from the endless sea of beach chairs, matching towels and rowdy crowds. Luckily, a sanctuary of accessible seclusion is perched atop the rocky cliffs of Negril, Jamaica at the immaculate Rockhouse Hotel.
Nominated numerous times for various World Travel Awards, including best Boutique Hotel in the Caribbean for six years running, this Design Hotels member is consistently considered a first-class Caribbean destination.
With just 34 villas of stone, timbre and thatched roofs, the Rockhouse strikes a harmonious balance between luxury, privacy and eight acres of the lush surroundings and volcanic rock upon which it stands. Three little birds sing as each villa is fitted with a private balcony so starry-eyed couples can embrace clandestinely in the soft caress of the ocean breeze and wonder: is this love?
The traditionally modest architecture masks the affluent amenities and luxurious accommodations of this opulent excursion, providing guests with a delightfully deceiving lavished leave. Some of the plentiful pleasures include holistic treatments at the cliff-edge Massage Cabana, on and off-site snorkelling, off-site reef diving and daily yoga classes.
Award-winning executive chef Kevin Broderick stirs it up with his modern rendition of customary Jamaican cuisine, as well as traditional Jamaican street food at the hotel's much-talked-about cliffside restaurants.
A jamming list of legendary musical icons including Bob Marley, Bob Dylan and The Rolling Stones has vacationed at this jewel of a Jamaican getaway. Get up, stand up and feel all right at this exclusive and exalted accommodation. One love.