Running with Robert Herjavec of Dragon's Den and Shark's Tank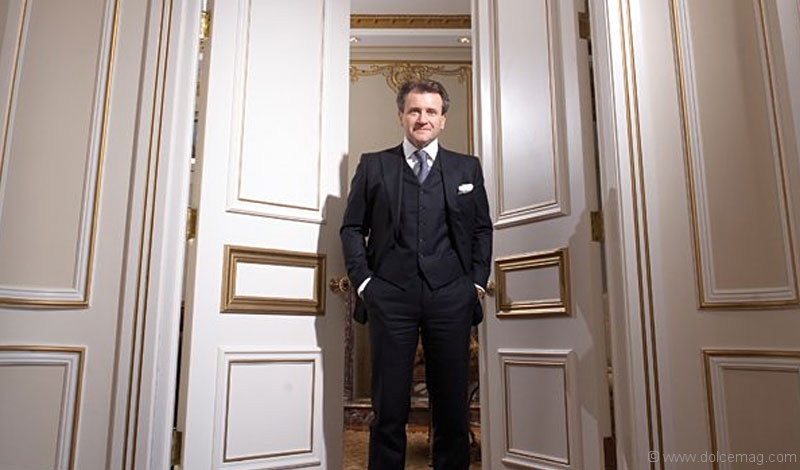 Wrought-iron gates softly sway open to reveal a sprawling French-château mansion, where just a few short months ago Mick Jagger and Michael Bublé, Bono and John Travolta mingled as Justin Timberlake ignited the ivories of a limited edition Yamaha grand piano.
Being an incurable enterpriser has certainly paid off handsomely for Robert Herjavec. But when you meet him – physically fit in bespoke couture – any preconceived notions of a man living the high life on Toronto's Millionaire's Row and jet-setting to New York's bustling Times Square to ring the closing bell for the NASDAQ fall short. He's charismatically funny, welcoming, adaptive. And he's no stranger to Twitter. "When I first got it I would go on once every two or three weeks, then someone said, 'Oh no, you can't do that, you have to go on once a day,'" he smiles, while sitting in his sumptuous ballroom, fit for Fred Astaire. The classic voice of Frank Sinatra floats through the grand space, making it hard not to picture the star-studded charity benefits that Herjavec hosts here for Princess Margaret Hospital.
"We all start with and have different advantages – some of us are born poor, some rich, some handsome, some not, some tall, some short, but the only great equalizer in life is time. We all get the same 24 hours – it's what you do with them that counts." It comes as no surprise that Herjavec hasn't slept much over the years.
By 5 a.m. he's walking through the doors of his company The Herjavec Group, Canada's top security integrator. "I'm very focused on building the best and largest security integrator; it's my real job. I love to build stuff. Building a business from zero to $50 million and beyond is thrilling." Herjavec stars in the Canadian television venture-capitalist series Dragon's Den and was handpicked by Mark Burnett to be one of five multi-millionaire business tycoons to co-host the U.S. version, Shark Tank.
Both successful shows have Herjavec considering whether to invest his capital in the business proposals of aspiring entrepreneurs, which he does with steely business acumen. So far he's most excited about his investment in Grease Monkey Wipes, founded by Tim Stansbury and Erin Whalen. "I hesitated at first but the girl, Erin, reminded me of my daughters. I looked at her and thought to myself: 'That's going to be my daughter one day.'" It's a good thing he listened to his heart: Grease Monkey Wipes' sales skyrocketed immediately after appearing on Shark Tank. "I have no problem saying no to people. The issue is having to crush people's dreams," says Herjavec, whose parents moved from Croatia to Canada in 1970 to give him, their only child, a better life. Once he realized he was far from living the North American dream, Herjavec overcame the tribulations of poverty by changing the course of his destiny. He worked for minimum wage as a waiter at a Yorkville restaurant and sold the power suits he wears today at Harry Rosen. Now he lives in a Shane Baghai-built home, vacations with his family at their stunning property in Miami, drives luxury cars like the Lamborghini Murciélago LP640 Roadster, the latest Mercedes-Benz SLS AMG and the less daunting Smart Car, a baby blue limited edition. For Herjavec, these triumphs are trivial when it comes to the real value of life. "I think having the money to make me feel good about my accomplishments has made me a better person. I am really not that money-driven, but considering what so many people had to sacrifice for me to get here, I had an edge to me until I had 'made it.' Watching my mom pass away from cancer was the hardest thing I ever had to do. I would have given everything and started with nothing again if I could have saved her."
Herjavec founded BRAK Systems in 1990, one of North America's first security integrators, then sold it to AT&T for a tidy sum. He then stepped in as worldwide vice president of sales for RAMP Networks and founded The Herjavec Group three years later. "Nothing beats the feeling of success. And I don't mean money or stuff, I mean there's nothing better than having a goal that's important to you and that feeling of self-accomplishment. I'm just a very driven guy and I'll just keep going and going."
Sorry ladies: Herjavec is married with three gorgeous children, and yes, his baby blues resemble the azure waters that lap upon Dubrovnik's shores. "I do get that I'm the 'good-looking' guy on Dragon's Den and Shark Tank. I say 'thank you' but it's all relative. Look at who I'm competing with; it's not much of a contest," Herjavec says with a laugh as he coasts across glossy marbled floors towards a winding staircase, hidden behind a secret passageway. "This was recovered from a centuries-old fire hall in England," he explains, before bounding with infectious energy up the flight of steps that leads to his personal office. "My wife says my study is my cave." Next is his stunning indoor pool, complete with Grecian statues, 50-plus windows and stately columns. He holds a membership at the exclusive Granite Club on Bayview Avenue, where he boosts his self-esteem and maintains marathon-strength for his running relays. "I run like a maniac. I had lunch with Donovan Bailey the other day – he's in great shape as you can imagine – and he was saying 'Oh, you don't have to run that much. Look at me, I never work out.' Me, I look at food, and I gain weight; it's incredible. So I run a lot, at least five times a week minimum." This allows him the pleasure of slipping into the crème de la crème of designer duds: Tom Ford suits. "I love the cut and design," he gushes, unveiling rows upon rows of his tailored dress shirts, pants and blazers, gracefully suspended in his mirrored armoire. "It's an extreme suit; powerful and well-tailored, and just happens to fit my body – if I'm in shape! I gain a pound, and right back to the Canali."
Herjavec isn't shy to reveal that he has lost 15 pounds recently, a feat that seems pretentious on the surface but in actuality reflects the adversity he felt during his childhood. "It took me years to not feel inferior. It's not a Freudian thing; it's just that being a poor immigrant, everyone made fun of me, so it took me a long time to make myself feel that I was OK. I was a geeky looking chubby kid, which didn't help." He is also guilty of having played the accordion.
His early days aside, Herjavec possesses the wit and fortitude of a man who knows what he wants. "I love Bolívar cigars, potato chips and Scotch. Not all at the same time, by the way."