Experience Next-level Luxury In Leaside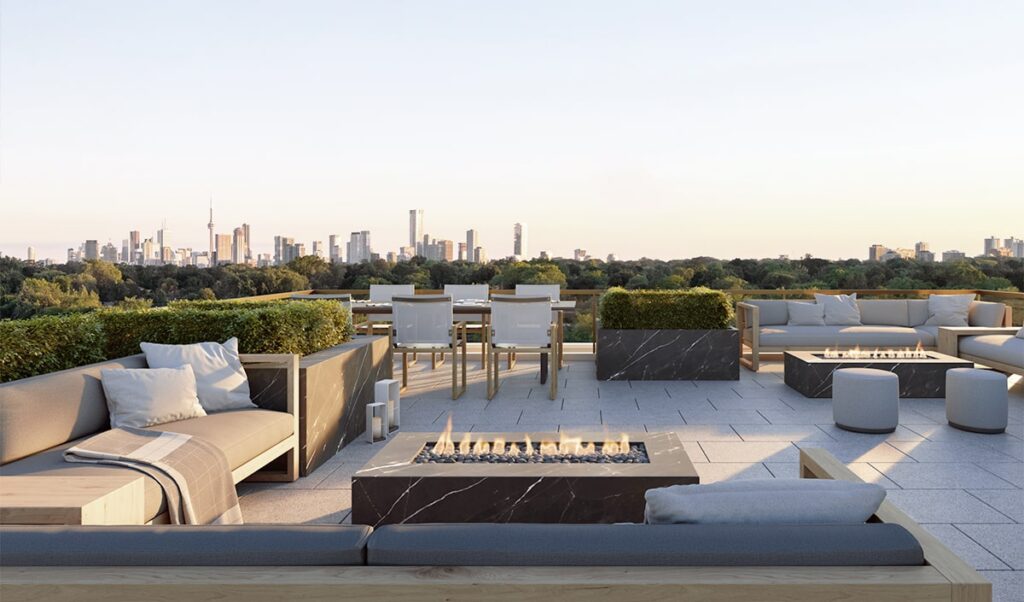 Contemporary boutique condominium offers array of refined features and amenities.
Making an eloquent statement of style and glamour in one of Toronto's most desirable neighbourhoods, The Leaside is a luxurious new condominium community by EMBLEM Developments, Core Development Group, and Fiera Real Estate. The Leaside, located on Laird Avenue, comprises two mid-rise boutique residences, with architecture by Turner Fleischer and interiors by Truong Ly Design Inc.
With a range of suite sizes, from studios to 3-bedrooms and luxurious townhomes, The Leaside offers an elevated lifestyle for residents who will appreciate the unique features and amenities, as well as the area benefits. The Leaside is located at the epicentre of Toronto's most prestigious historic neighbourhoods – Leaside, Rosedale, Moore Park, and Bennington Heights. This confers close proximity to nature-infused parks, upscale shopping and dining, top-rated schools, and the Laird Crosstown LRT station.
"Our commitment to quality is evident from even first glance of The Leaside. The boutique building is one of those rare developments that immediately delivers the feeling of special- yet it's affordable luxury buyers will appreciate," says Kash Pashootan, CEO and founder, EMBLEM Developments.
This sentiment is echoed by Bryan Nykoliation, President, Core Development Group. "The Leaside is a unique residential offering that discerning buyers will aspire to live in," he says. "They will be able to experience upscale luxury ownership in a cherished neighbourhood."
Complementing the array of area benefits and conveniences are the transformative amenities at The Leaside, including an inspiring gym, spacious dining room, thoughtfully planned co-working lounge and spectacular rooftop terrace. To add further enticement, all amenity spaces will be furnished by RH.
Inside every suite, the same sophisticated attention to detail is on display. Generous space considerations bestow a feeling of calm. The well-equipped kitchens, with a choice of three colour schemes, and a quartz countertop and backsplash, are perfect for home chef culinary endeavours. Also presenting three contemporary colour schemes, along with custom vanity cabinetry and glass shower door, the spa-like bathrooms are both refreshing and relaxing. High ceilings and sleek features and finishes complete the picture of effortless modern luxury.
Making life at The Leaside even more streamlined and pleasant is a suite of smart-home features. This effortless system is smartphone activated. To lower its impact on the environment, The Leaside is geothermal powered by the leading-edge Aura™ GeoExchange system by Subterra Renewables.
Core Development Group, EMBLEM Developments and Fiera Real Estate and are proud to be creating this luxurious new condominium to seekers of an elevated lifestyle.
EMBLEM Developments is one of the fastest growing real estate development companies in the GTA, with a focus on high-rise residential buildings. EMBLEM's commitment to design and quality products has been recognized by awards from esteemed building organizations. EMBLEM's current portfolio consists of over 4,500 residences representing $3.6 billion of development value.
Core Development Group is a Toronto-based real estate developer of unique urban projects that combine innovative architectural design with high quality construction, setting a high benchmark in contemporary living with thoughtfully designed communities spanning from low-rise to high-rise projects throughout the GTA and the Golden Horseshoe. With a focus on sustainable development by incorporating green technologies into its projects, Core's current portfolio consists of 4,100+ units rep – resenting over $3.5 billion in development value.
Fiera Real Estate is a leading investment management company with offices in North America and Europe and a team of over 130 employees. The firm globally manages over $8B of commercial real estate through a range of investment funds and accounts as at December 31, 2022. It is an entrepreneurial team working within an institutional framework, enabling clients to benefit from a unique combination of creativity and innovation.
Please visit theleaside.com for more details.