The Emergence Of Japanese Dining Traditions In Toronto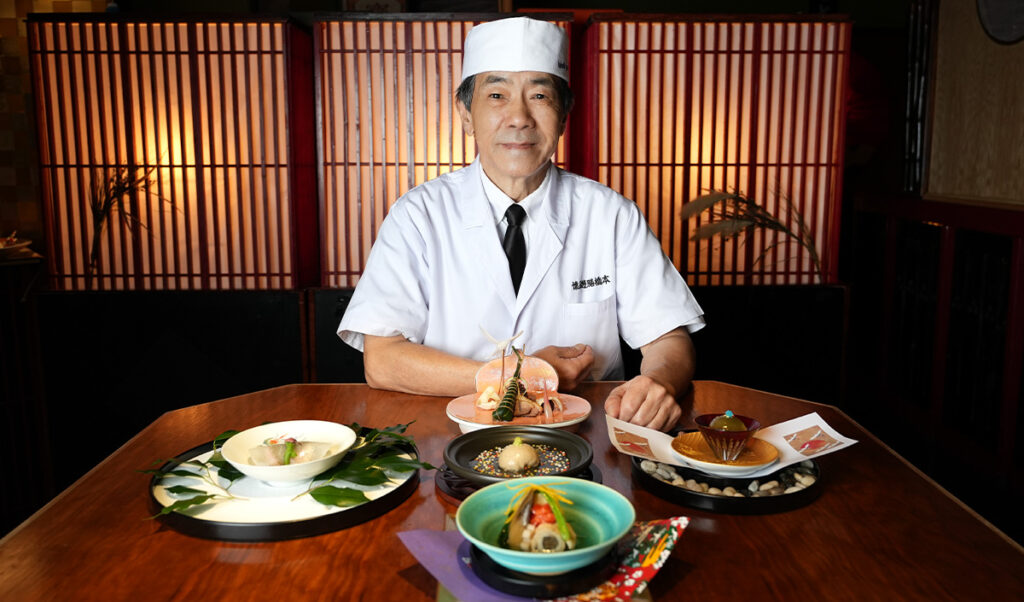 Thriving Japanese tourism, greater accessibility to quality ingredients and a population that is open to new experiences has led to a vibrant and exciting Japanese culinary scene in Toronto.
Amyriad of foods and practices constitute the cuisine of Japan, yet few are known outside that country. In Toronto, diners have long been familiar with sushi and ramen. They have enjoyed the spectacle of teppanyaki and the conviviality of izakayas. In recent years, the more adventurous have trustingly put the choice of their omakase meals into the hands of the chef. And the more sophisticated have delighted in the seasonality of artfully prepared multi-course kaiseki meals. Japanese cuisine has evolved in Toronto over the years, enriching the city's culinary landscape with more authentic Japanese dining experiences and traditions. Signs point to this trend continuing, as more Japanese restaurants are emerging in a city with a cosmopolitan, well-travelled and multicultural population that embraces new experiences and welcomes opportunities to learn about the traditions of others.
Japanese cuisine first appeared in Toronto in the late 1970s, albeit only in the form of a westernized version of sushi. At the time, though, Torontonians may have had more of an appetite for trends than for raw fish, having become aware of the growing popularity of sushi restaurants in New York City since the early 1970s. A decade later, Japanese dining in Toronto was still almost exclusively limited to sushi establishments, largely with all- you-can-eat menus. It was in the late 2000s that Toronto began to expand its variety of Japanese food offerings. Initially, this came by way of Vancouver, which had provided an earlier gateway to the food, practices and people of Japan. Izakayas — the Japanese version of pubs — were present in Vancouver in the 1990s, but did not appear in Toronto until 2009, when the Vancouver izakaya group Guu opened an outpost in the city. Fun, casual and affordable, the popularity of izakayas was partly due to the 2008 global recession that left diners looking for more economical ways to enjoy dining out. The progression beyond low-quality sushi and inexpensive pub food in Toronto was partly due to the recovery of the economy and to the much larger market that Toronto had compared to Vancouver. Two other factors also helped. One was "Cool Japan," a Japanese government initiative launched in 2013 to promote Japanese culture abroad and mitigate the negative effects of the 2011 Fukushima nuclear disaster. The other was the addition of washoku — traditional Japanese cuisine — to UNESCO's Intangible Cultural Heritage list in 2013. Toronto's Japanese population was also growing, and more Canadians were travelling as tourists to Japan. Toronto was poised to usher in a new era of Japanese dining. Canada's first kaiseki restaurant, Kaiseki Yu-zen Hashimoto, originally opened in 2000 in suburb of Toronto and in 2009 moved to the city proper, where there was a growing interest in Japanese cuisine. Kaiseki is a style of cooking that Buddhist monks introduced to accompany the tea ceremony in the 16th century: because of the intensity of the flavour of matcha — powdered green tea leaves — snacks were served with it. The practice eventually developed into the highest form of Japanese cuisine, based on the Japanese philosophy of "shun": ingredients should be enjoyed only at their peak of freshness and flavour. This philosophy transcends simply the harvesting of ingredients at the optimal time; it also encompasses the skill of the chef in using techniques that bring out the best of the ingredients. It was kaiseki that influenced French nouvelle cuisine in the 1960s and 1970s and led to the concept of the modern-day tasting menu. A kaiseki meal consists of a prescribed sequence of elaborate small courses, each an expression of their ingredients' time and place in nature, designed to engage all the diner's senses, not just taste. Traditionally served in a private room, kaiseki is as much a feast for the eyes as it is for the palate. At Kaiseki Yu-zen Hashimoto, Chef Masaki Hashimoto presents his deeply rooted kaiseki experience with technical precision and respect for the culinary art, transporting guests to the historic alleyways and tea houses of Kyoto as soon as they enter his restaurant. "I opened a kaiseki restaurant in Toronto because I felt there was potential to promote the foundation of what ought to be Japanese cuisine in such a diverse city," says Chef Hashimoto. "It was not an easy startup, as many thought of Japanese cuisine as just sushi and considered the notion of kaiseki cuisine to also be sushi," he added. Chef Hashimoto hopes that through the traditional practices of kaiseki, guests are inspired to think of tradition as something that is still beautiful and refreshing in a modern world. The restaurant's staying power has proven that this is indeed possible.
Omakase translates as "I trust you, Chef," and it requires that the customer relinquish control of the meal to the chef, who selects the best ingredients and dishes based on freshness and availability. Although some restaurants in Toronto had offered omakase menus before 2014 when Chef Yasuhisa Ouchi opened Yasu Toronto as an omakase-only sushi bar, none had focused solely on omakase.
"I started doing take-out sushi in a residential area, serving both westernized rolls and traditional nigiri sushi. After gaining a good repeat customer base for nigiri, I felt confident I could focus on this direction, says Chef Ouchi. "I wanted to serve what I thought was great traditional sushi and I felt that Canadians were going to appreciate it … I felt that Torontonians began to want more authentic Japanese food around 10 years ago, so I think they were definitely ready," he added. At Yasu Toronto, diners enjoy a "chef's choice" menu of seasonal sushi and sashimi. Sushi is served as it is meant to be: each piece of fish is expertly sliced, placed atop perfectly seasoned and warmed rice, brushed with just the right amount of sweet nikiri sauce for balance and served one piece at a time, to be picked up with the fingers. Chef Ouchi is driven by the desire to serve great sushi. He expresses concern that popular social media influencers now depict omakase as a luxury, just another expensive must-have experience meant to enhance lifestyle- marketing strategies. It's quite a departure from its original intention, which is for a chef to showcase and share the best he has to offer. It is thanks to restaurants like Chef Ouchi's that diners have the opportunity to understand the true essence of traditional culinary practices like omakase.
Trailblazing Japanese restaurants continue to emerge in Toronto, satiating the city's appetite for uniqueness and authenticity. Kappo Sato, Toronto's first restaurant to specialize in the traditional style of Japanese dining known as kappo, opened at the end of 2022. Kappo translates as "to cut and to cook," and as such a kappo meal includes a variety of ingredients that are cut and cooked using different methods. Kappo is a less-formal dining experience, where diners are served over a counter and have the opportunity to converse with the chef as he works; because kappo dining eliminates the extra time required for serving, the chef can control the timing of cooking so that diners can enjoy dishes as soon as they are prepared.
At Kappo Sato, Chef Takeshi Sato brings his impressive pedigree as an international sake master and chef; his over 20 years of experience includes working at a Michelin-starred restaurant in Tokyo and as the official chef of the Japanese Consulate General in Toronto. "Kappo is one of the few styles of Japanese cuisine that has been introduced in North America, and I wanted to introduce it here in Toronto," says Chef Sato. "Our customers are foodies who enjoy eating at Toronto's finest restaurants. They are interested in Japanese cuisine, sake and Japan, and want to experience a different dining experience than what they have experienced in other restaurants," he continues. Chef Sato points to increased Japanese tourism that has led to a greater appreciation for Japanese cuisine worldwide. "As more people are experiencing the best of Japanese cuisine in Japan, I believe there will be more upscale restaurants of the same calibre as those in Japan that will satisfy these people," he says. Chef Sato also credits the evolution over recent decades of Japanese cuisine abroad to the increased availability of ingredients that are of nearly the same quality as those found in Japan. He explains that this greater access to quality local ingredients also challenges chefs to expand their skills and creativity.
"It was with dedication and perseverance that we stuck with the authenticity of kaiseki, anticipating that there would be a time when many people would have visited Japan, understood the difference between authentic Japanese cuisine and westernized adaptations and returned seeking this experience here in Toronto," says Chef Hashimoto. He was right. Restaurants in Toronto that offer faithful renditions of Japanese culinary traditions are some of the city's most sought-after, usually booked solid weeks in advance despite their hefty menu prices. Toronto's first edition of the Michelin Guide, published in the fall of 2022, testifies to their strong presence and popularity. Out of the total of thirteen Michelin star recipients, the guide awarded stars to five Japanese restaurants, including Kaiseki Yu- zen Hashimoto, which received one star. The only restaurant in Toronto to receive two Michelin stars was Sushi Masaki Saito, which offers a traditional omakase menu. "I think there is a prominence of Japanese restaurants in Toronto's first Michelin Guide because Japanese cuisine, not only sushi but washoku, is highly appreciated worldwide," Chef Sato reflects.
Japanese cuisine is defined by quality, skilled artistry, seasonality and respect for tradition. At once simple and complex, it intrigues as perhaps no other cuisine does. As one of the world's most multicultural and dynamic cities, Toronto is a hub for world cuisines, always welcoming new approaches that add vibrancy to its vast and varied culinary landscape. "Toronto is a great place to promote cultural experiences such as kaiseki cuisine," says Chef Hashimoto, "and through such experiences, I expect to see the desire among Torontonians for more variety of traditional Japanese restaurants to remain strong and usher in a new era of young customers." Today's diners see the value of good food beyond its sensory pleasures and also appreciate the elements of gastronomy that embody the relationship between food and culture. For years, the Japanese food that could be found outside of Japan consisted of only a few westernized dishes. This is no longer the case, especially in global cities like Toronto, where people are curious and open to new knowledge. Luckily, this means that we can expect to see Japanese gastronomy in Toronto continue to emerge, to excite — and to educate.
www.yasu-sushibar.com
www.kapposato.com
www.kaiseki.ca
@yasu_toronto
@kapposato
@kaisekiyuzenhashimoto