Sir Elton John Legendary Humanitarian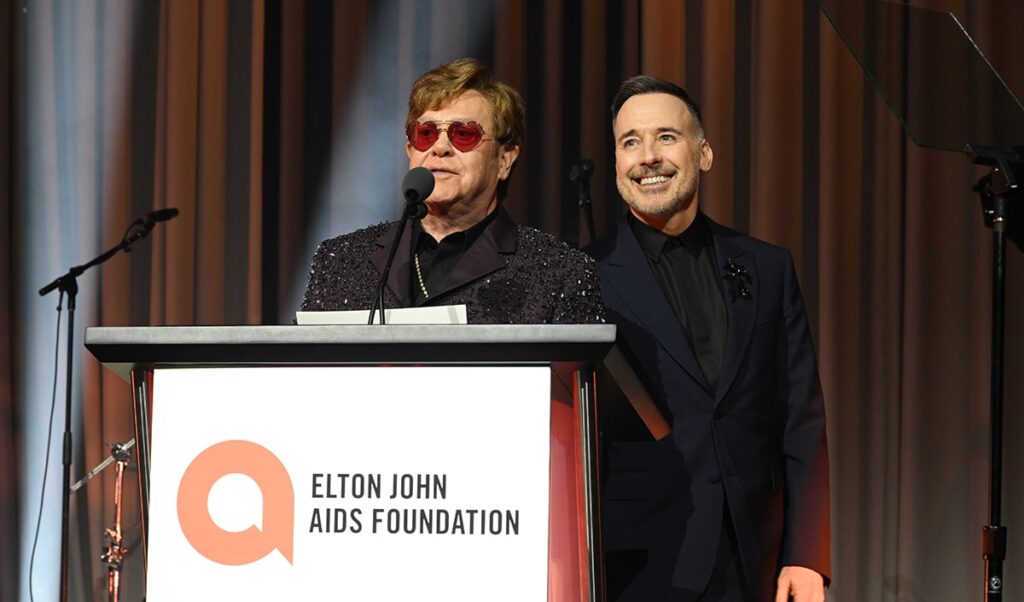 Pianist, singer and composer Sir Elton John has been inspiring generations with his musical talent since the late 1960s. The global superstar is known and beloved for his one-of-a-kind wardrobe, voice and stage presence. But what many do not know is his strong commitment to educating the world on the AIDS epidemic and the life-changing work that the Elton John AIDS Foundation has done.
West Hollywood Park was flooded with star power who showed their support at the 31st annual Elton John AIDS Foundation Academy Awards® Viewing Party on March 12, 2023. The revolutionary musician, Sir Elton John, hosted the event with David Furnish, accompanied by special guests Erick McCormack and Michaela Jaé Rodriquez.
Sir Elton John took the stage to welcome his guests. "We have saved over five million lives. Ending AIDS is within our grasp. Tonight gives not only an incredible evening of extraordinary talent and glamour of Hollywood's biggest night, it also brings us together for a great cause."
The foundation welcomed distinguished guests, such as Donatella Versace, Maren Morris, Fan Bingbing, Emma Watson, Wiz Khalifa, Heidi Klum, Dove Cameron, Hilary Duff, Brooke Shields, Lucien Laviscount, Noah Schnapp, Kesha, Regé-Jean Page, Saweetie, Stella Maxwell, Tyga, Sharon Osbourne, Sophia Bush, Maggie Rogers, Jenna Dewan, Julianne Hough, Smokey Robinson, Karen Pittman and Simona Tabasco.
Thanks to the generous donors, sponsors and supporters the Foundation raised over US $9 million, bringing them steps closer to completing their mission to overcome the stigma and end the AIDS epidemic by 2030.
"I'm delighted to have reunited with all of my friends tonight after such a long time apart and, better yet, to have raised over $9 million for the fight against AIDS," says Sir Elton John, founder of the Elton John AIDS Foundation. "We mustn't forget that HIV is still causing needless suffering around the world, and we must protect those most vulnerable to this disease with testing and compassionate care. We can see an end to AIDS in our lifetimes, but first we must break down stigma and discrimination and provide equal access to healthcare to finally end the epidemic for everyone, everywhere."
The foundation was established in 1992 and has committed to this goal from the start. With a wide network of partnerships and generous supporters, the foundation has saved over five million lives, raised over $525 million worldwide and has supported 3,000 projects to date.
"The foundation is just really important … it raised over half a billion dollars and has been instrumental in the fight of helping so many people and keeping awareness to remember the indifference and intolerance that went on that actually resulted in a lot of people dying," says Emmy Award-winning actor Michael Imperioli.
"Elton and I are so touched and elated by the generosity we've seen throughout this glittering and massively successful evening," says David Furnish, chairman of the Elton John AIDS Foundation. "This funding will help us continue HIV and AIDS prevention and care programs across the world, save millions of lives and help countless people to have a brighter future."
Sir Elton John has undoubtedly cemented his legacy in multiple ways, whether it be fashion, music, or passionately advocating for LGBTQ+ rights. The music icon has beautifully left his mark on the world with his devoted work to battling the AIDS epidemic. He is someone who leads by example. He reminds us that change is possible if we rally together. He says, "Within the AIDS Foundation, no one gets left behind because everyone is important. Everyone is special. No matter what sexuality you are. Whether you are gay, straight or trans, we love you, and we put our arms around you."
Follow the Elton John AIDS Foundation
Facebook: @EltonJohnAIDSFoundation
Twitter: @ejaf
Instagram: @ejaf
TikTok: @eltonjohnaidsfoundation