Lisa Corbo – Breakfast At Lisa's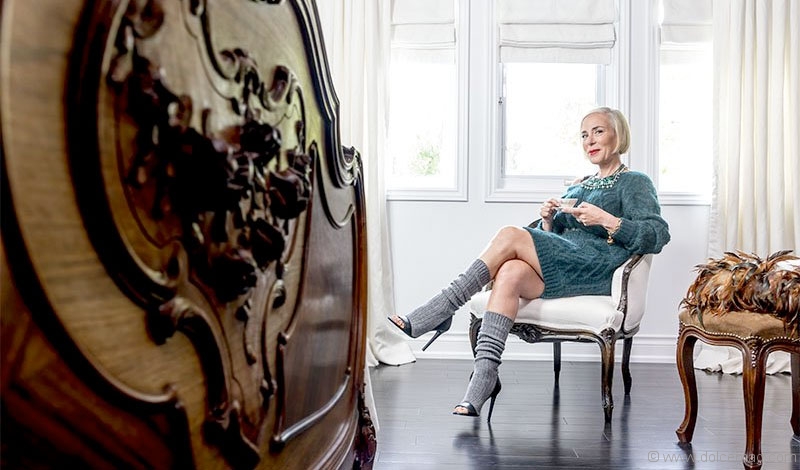 If Lisa Corbo invites you over, expect to stay a while.
The fashion-philanthropist is a ball of energy as she leads the way up a dark deco staircase, her platinum bob and red lips aglow from the sunlight streaming through the windows in her master bedroom. Wearing a hunter green Vionnet sweater dress, she walks past the lion carving of her bed's footboard and finds a seat on a contemporary-vintage chair, one of the many furnishings she and the principals of Bottecchia Artistic Group plucked for her home. The trio has been co-ordinating and contemplating over eclectic pieces since the summer before last, renovating the unassuming abode with light and dark contrasts, art and fashion collector books and Polly Courtin paintings. Arriving on her doorstep on a sizzling summer morning, a steady stream of rich espresso and fashion ensues.
The gravitating force in Corbo's home is undoubtedly her walk-in closet. The modestly sized yet boutique-worthy space is bathed in quiet couture organized neatly in two rows, reflecting the put-together style of a Toronto style maker. "I hate to say I love just one designer. Vionnet is just so luxurious, and I'm wearing a lot from the House of Emanuel Ungaro at the moment. Definitely I think [creative director] Fausto Puglisi is probably the Italian designer that I favour at the moment. He's sexy, he's wearable, he's architectural — he's like a modern [Gianfranco] Ferré.
"And this," she gushes, "this is what I wore when I first met my husband." Lifting a metallic gold mini in the air, she twirls it in delight as though she were still dancing in it. "I haven't tried this on in 25 years," she exclaims, placing the sentimental skirt back to its place among a colour-coordinated clothing rack.
Tearing my eyes off black Gianvito Rossi lace-up booties, my misconceptions of a luxury retailer who scours the fashion capitals of the world quickly fade like overwashed denim. No buoyant ball gowns or overcompensating costume pieces among a wardrobe of neutrals and glints of gold here, just a working girl's closet on organizational overdrive. "You should be able to walk in your closet and pull something fast," says Corbo of her tended garments, each one carefully suspended and surrounded by ample breathing room. "And in order to do that you have to have the right items. Unfortunately that comes from learning how to control yourself and not just purchase something because you think you need that designer or must-have. Fashion should be effortless."
While her portion-controlled closet would make any woman regret her last foolish splurge, Corbo's flair for building wardrobes goes beyond the superficialities associated with the realm that colours her world. Devouring the world's headlines and losing herself in historical reads, she's well equipped to wade into political discussions. Fashion, she argues, is not only fabric deep. "Just because I like fashion doesn't mean I'm not intellectual; it doesn't make me a blond bubblehead. If you look at some of the top CEOs in the world, they look good. The woman behind Yahoo [Marissa Mayer], she's stunning. She has presence. If you take care of yourself, people will see that and they'll know you can take care of their business. If you keep your house organized, you're not doing it because people will walk in and say, 'Oh my God, your house is so organized.' You do it for yourself. I think those are things we should remember. Because look at what's happening in the world today: there are people whose homes are being bombed. I'm sure that house was very valuable to them. You know, it's not just about materialism."
Describing the human form as a blank canvas onto which clothing is an extension of one's self, a personal connection to cancer jolted Corbo into action while lying in bed several years ago. Picking up a shoe and slipping it on, she instantly felt at ease, prompting the self-described working-girl philanthropist to spread the healing power of fashion to the women of Toronto. The poignant moment led to co-hosting Lunch With Margaret & George, a couture charity event that raised $225,000 last year toward the purchase of a genetic testing machine at the Princess Margaret Cancer Centre. "Lisa and [her husband] George Corbo have brought glamour and elegance to the Princess Margaret Cancer Foundation's event lineup," says Laura Syron, vice-president of community programs at PMCF. "Their outstanding efforts, along with their committee, volunteers and many generous donors, have made this a marquee event in Toronto."
Corbo was born in Australia and raised in a modern Italian household, her fashion-conscious mother of the less-is-more ideology. It was during family travels that Corbo was drawn to Italy, eventually spending several years in Milan working in the fashion industry before returning to Australia. Graduating with a degree in textile design and winning gown of the year in a big fashion contest, Corbo landed a job as an international buyer for a luxury chain of boutiques owned by an eccentric man dressing royals at the time. While on a business trip in Milan, Corbo met her future husband, George, at Le Langhe restaurant, a favourite fashion spot for many designers, including one of her idols, Tom Ford. At the time, George was based in Toronto in the luxury fashion business.
Years later, the Corbos opened their boutique, George C, in Yorkville in 2006. In her voice you can still hear the cheery cadences of her mother tongue. "We just took a gamble. When people came in, they had no idea what they were looking at." George C continues to brandish a curated compendium of hard-to-find designers from London, Paris and New York, with a strong edit in ready-to-wear, shoes, accessories, and Corbo's eponymous line of simple, versatile jewelry. Her ability to rear up-and-comers she instinctively knows will turn into signature brands prevails throughout the monochrome walls of George C, much like a gallery proudly displaying rare installations of art. One such designer is Joseph Altuzarra, now a darling on the fashion scene. "She has a clear idea of what her message is in her store and who her customer base is," said Altuzarra before showcasing his spring 2014 collection at last year's Lunch With Margaret & George, held at the Art Gallery of Ontario. "She sort of has this incredible knowledge of her market. It's really rare, and the relationships with the people that she works with are real." The fourth Lunch takes place this November at the AGO and will feature a 2015 runway collection by Ungaro designed by Fausto Puglisi. Funds raised will benefit the immune therapy program at Princess Margaret Cancer Centre, one of the top five cancer research centres in the world.
A concierge of style, Corbo's approach to fashion doesn't end after the receipt's been printed. She'll often accompany her clients around town to help pick out complementary makeup and the proper undergarment, or work a new piece within the scope of one's closet. Her concern for the whole being of a person lights her path, much like her charity work, and that electric moment when you step out in something so fabulous it makes your head spin. The effect is not lost on the seasoned stylist, but rather amplified with each of her wardrobe changes on this particularly sizzling summer day, the deliciously rich aroma of java and fresh pastries  melting through her home. Slipping into a vintage cocktail dress, once worn by her mother to a ball in the 1960s, she glances toward a floor-length mirror, awestruck by the imperial piece that had been tucked away in her closet. After all these years, the transcendence of fashion flickers knowingly across Corbo's face.
www.georgec.ca