Pusateri's Spreads Its Wings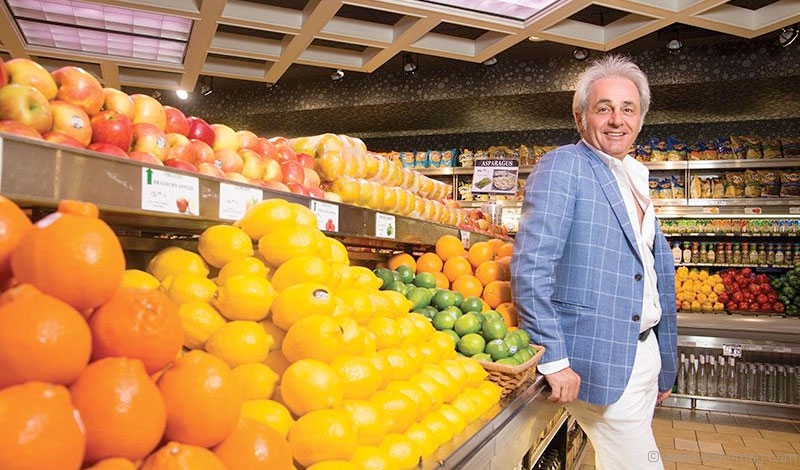 Shoppers flow in and out of the entrance of Pusateri's Fine Foods on Avenue Road, shopping as they would on any other typical Thursday morning. But in the office above, Frank Luchetta is outlining a groundbreaking move that is anything but normal for the venerable high-end grocer. The president of Pusateri's has pulled back the covers for the first time on plans for a fourth store to be opened in Oakville, a move that will take the company beyond the borders of Toronto for the first time in its nearly 30-year history.
"We're really excited about this new opportunity," Luchetta says. "It really is a big step for us as a company and a brand."
The new store's home is in Oakville Place, Oakville's largest shopping centre. Luchetta explains that the company has contemplated moving outside of Toronto for years and has been building up its infrastructure to facilitate growth. A 10,000-square-foot commissary was also recently completed to provide the company with the means to supply its Toronto stores, which include Bayview Village Mall and Yorkville, as well as additional locations in the Greater Toronto Area.
The Oakville community has always been at the top of Pusateri's list for expansion. The problem, however, has been location — it could never quite pin down a spot that worked. It was over dinner in Miami's Bal Harbour with Fred Waks, president and COO of RioCan, the real estate investment and management firm that owns and operates Oakville Place, that Luchetta would find the ideal site.
"They're committed to redeveloping Oakville Place into a higher retail-fashion type of centre, and they believe Pusateri's can bring in those types of businesses," says Luchetta.
"Quite frankly, there's only one Pusateri's," says Waks. "Nobody is carrying the merchandise and degree of specialty items, as well as staple items, that Pusateri's brings."
Waks explains that he and his team believe that the whopping $500-million sale of Bayview Village Mall last year was due mainly to having Pusateri's as the mall's anchor. From a merchandising and long-term-investment standpoint, he sees Pusateri's as the ideal company to lead the elevation of Oakville Place and to attract more high-end retailers.
"We felt if we were going to make a dramatic change to Oakville Place and take it in the direction it deserved, Pusateri's is the only brand we could do it with," Waks adds.
Luchetta explains that he and Waks discussed building a Bal Harbour of Toronto, and that this new partnership "really has all the makings of it to do that, because we can provide that feel."
The new Oakville store — the first Pusateri's has opened in nearly five years — will have all the amenities customers in Toronto have come to expect from the esteemed retailer, a name synonymous with the pinnacle of quality and service. From the finest meats and produce to the imported specialty items and popular Home Meal Replacement program, which offers ready-to-eat, restaurant-quality meals customers can take home and enjoy, to the in-house amenities, such as onsite and offsite catering, event planning and high-end florals, the Oakville location will have it all.
GH+A Design, the Montreal-based firm that has handled Pusateri's store designs for the past decade, will head the design of the new location. Frank Di Niro, who was the design lead on the Avenue Road renovation several years back as well as on the Yorkville and Bayview Village Mall locations, explains that the Oakville store will have an element of fashion, giving it an innovative and contemporary feel, but it will also use "noble materials," such as white carrara marble, limestone and wood, to maintain the comfort, warmth and longevity that a quality grocer should have. It's a twist between design, architecture and food, says Di Niro, adding, "In one way, it's a quiet architecture so that the food really stands out."
"I think the consumers in that area are very in tune with food and they appreciate the quality that we've delivered for many years to the Toronto residents," says John Mastroianni, general manager of the Pusateri's Avenue Road location. "So being part of that community, I think, is something that we're excited about, to be able to service them."
"Our customers are very well travelled and they really have seen what the world has to offer, and that was pretty much the vision of Pusateri's when it started," adds Luchetta. "The original vision was to have a food emporium that would just house everything under one roof. If it's not available, we can consolidate shipments from Europe or anywhere in the world and bring the product over ourselves."
The 18,000-sq.-ft. store will be similar to the original Avenue Road location, and customers can expect that same hands-on, family-run feel that Pusateri's has always offered in the past, but there will also be unique features, such as valet parking and a restaurant concept out front. "It's a full-line store with some twists," Luchetta says. He's remaining tight-lipped on what those twists are, but notes that there will be components that will give it "a whole new experience."
A specific date for the opening hasn't been determined, but Luchetta says they're aiming for the fourth quarter of 2015. The development is the first step toward greater expansion, and the Oakville store is a potential launching pad into other communities in Ontario, and possibly beyond.
While still focused on perfecting local expansion before revealing any further plans, Luchetta is excited about moving forward. "We're now in a position where we can grow the brand into different areas and communities around the city," he says. "This is the beginning of bigger and better things to come."
www.pusateris.com