Sabaina Malik Is An Entrepreneur Building Brands To Last A Lifetime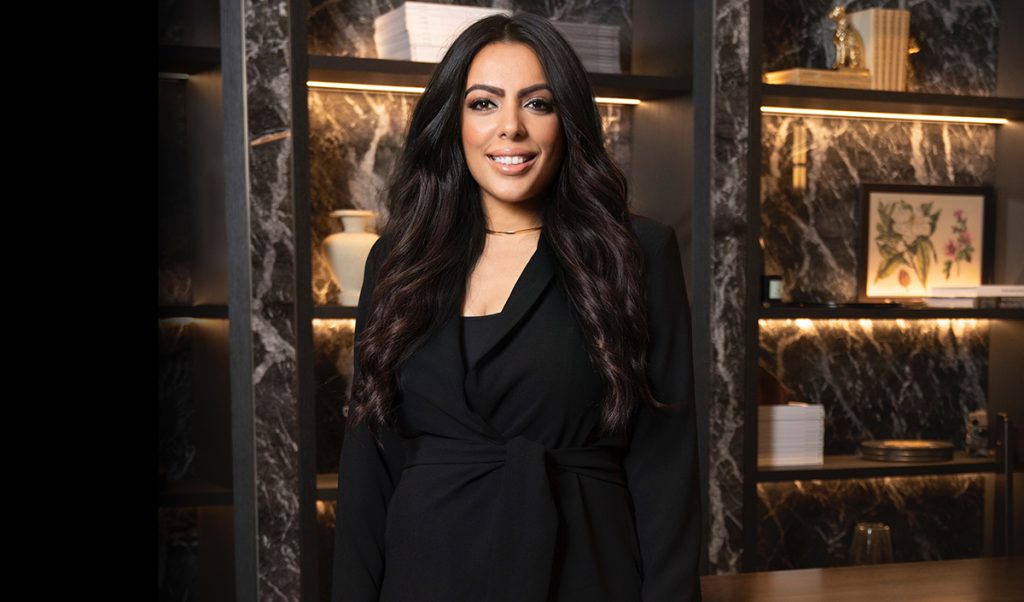 The founder of M Industries on being a leader, changes in luxury and striking a healthy work-life balance.
Sabaina Malik is someone who knows what she likes. Her coffee order is an oat milk cappuccino. She buys her day planners in an assortment of different colours from Italian stationery brand Campo Marzio. Her favourite restaurants include Pierluigi in Rome, Oliver's Steakhouse in Oakville, Ont., and Annabel's in London.
She spends her days helping and inspiring brands at her company M Industries, drawing from her experience of working with some of the biggest companies in the world and a personal mantra of "looking at everything and thinking about how it can be better."
In her own words, M Industries is "a branding and marketing agency, and clients come to us for different reasons. Sometimes it's because they've been successful for 25 years and, suddenly, they're not competitive anymore. My expertise is figuring out why and then finding a solution and implementing that solution."
Before founding M Industries, Malik had extensive experience with several notable brands. While working with The Gap, she had an opportunity to help the team bring Old Navy to Canada, where she got her first taste of launching a brand in a new country.
Afterward, she worked for L'Oréal Paris Canada, specifically Kiehl's, building a business organically from the ground up. "I learned how to become an entrepreneur in that job because it gave me all the freedom to do it the way I wanted to. That's where this brand-marketing thinking came into my life in a serious way."
As someone who's held many roles as a leader, both before and after M Industries, including having working at Apple, Malik has learned what it takes to have the most impact. "Leadership is all about people and service," she continues. "People get hung up on titles and being important, but the more people you lead — it's a huge responsibility. If you're not understanding their careers, well-being and that their livelihood is dependent on you, you don't deserve to be that leader."
Early on, Malik's ambition was to be a psychotherapist and that, along with human resources and business, was what she studied at university. While her career moved toward brand-building, an understanding of how people think and their behaviours still influences her work. "I have a natural curiosity for people, their stories, their companies and what makes them tick," she says. "It allows me and my team to become a longterm partner with trust."
One particular shift she's seen in popular culture is an increased interest in the world of luxury. She talks about how, thanks to the Kardashians and shows, like Selling Sunset, we're more interested in luxury than ever. She also notes how "all things luxury are accessible because we're in a time of side hustles and having access to more money at a younger age."
Because of that, Malik explains the struggle of appealing to that without sacrificing the essence of a brand. "While we need to cater to where our current culture is at, I'm trying to keep honesty and authenticity in the brands we're building. We build brands to last a lifetime."
When asked to describe M Industries, she says it's "creative, connected and always evolving." While the ever-evolving nature is true to her business, the case is also true personally, and Malik is open about her journey as an entrepreneur. She made a conscious decision to fuse her personal Instagram with her business one, saying "no one wants to follow a company account because it doesn't have a personality. People aren't looking to consume content; they're looking to connect with it."
"I Want To Leave Everything Better Than How I Found It. I Want My Personal Relationships To Be Fulfilling And Impactful, And I Want To Make Sure I Raise My Daughter To Be A Lovely Human Being"
Having grown the business as a single mother, she also talks about the different phases in an entrepreneur's life and the importance of figuring those out early. "Not every year in your business is about making the most amount of money," she says. "Sometimes it's about making an impact, finding the best talent or finding the work-life balance for your family."
However, after years spent in the industry, she's learned to strike a healthy balance. "There are three things I want to do," she says. "I want to leave everything better than how I found it. I want my personal relationships to be fulfilling and impactful, and I want to make sure I raise my daughter to be a lovely human being."
Interview by Estelle Zentil