Troy Murray: A Journey On The Path Of Integrity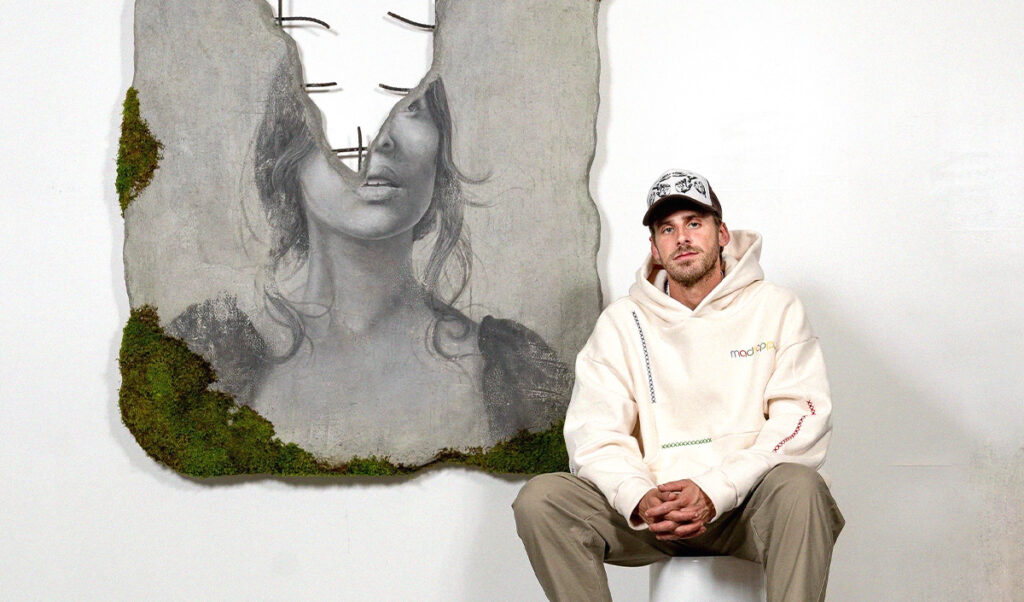 Troy Murray's arc of purpose and the journey toward lighting his spark
When posed the question of what ultimately influenced his life's change in trajectory, Detroit native and current Los Angeles resident Troy Murray, better known as the talented artist TYP, answered Dolce with an inspiring response: "I found purpose through art, using this gift that God's given me and using my work to capture people's attention, while being able to share my experience and see if that's able to help anybody." This comment alone was enough to make us want to find out all we could about the details of his captivating success story.
Murray (TYP) is a multimedia creative in pursuit of living his truth and realizing one of his lifelong ambitions. The artist is bridging the gap between two of his childhood passions, the world of sports and entertainment and the world of the visual arts. TYP has expertly blended the two using his knowledge for sports and creative approach to build both a platform where he is able to share his story and a space that showcases his unique works of art.
Through years of experience and self-discovery, TYP has solidified his own niche in a recognizable style that is in a category of its own and a space that allows him to (as he puts it) "just be me."
His work bends boundaries and create unique synergies by blending both two-dimensional and three-dimensional space, using materials that would not typically be found in an art studio. His pieces often include a combination of MDF wood boards, spray foam, concrete, moss and rebar, to name just some of the media he has employed. TYP creates works that challenge the mind and add depth to traditional canvas paintings. He tells stories through his works, many that can be absorbed on both a surface level and with a deeper appreciation when interacting with a piece. Through hardships and challenges, TYP has been able to translate his experiences beyond the realm of thought; his projects are tangible messages that he hopes can continue to inspire and redefine the viewer's perspective on life.
I FOUND PURPOSE THROUGH ART, USING THIS GIFT THAT GOD'S GIVEN ME…
Since childhood, TYP has been an avid sports fan. From spending countless hours on the ice to following all the latest sports buzz, the future artist would dream of an athletic career with his ultimate goal being landing a spot in the NHL. While sports were a big focus of his upbringing, there was a completely different side to him that took a liking to the visual arts. Murray would spend his free (and mostly private) time drawing and sketching up ideas that his mind would imagine. He explained in our interview: "I drew as a hobby, off on my own, at home. I didn't really let anybody know that I did it. I had some teachers in school that would try to push my mom into getting me into art — I was kinda good at this thing, but I really liked sports." Funny how the universe works …
Although a career in hockey was always the dream for the young artist, TYP faced challenges with addiction and substance abuse as he entered young adulthood. He endured many difficult experiences that had him stray from his path and ultimately led to coping through substance abuse for comfort and decision-making. Through perseverance and the right help, TYP made a successful recovery, finally becoming sober. He stuck through the pain and made use of his time by picking up one of his childhood hobbies: drawing.
TYP explained how, while trying to keep his mind occupied, he found peace and a meditative distraction from his temptations by drawing. "Once I started drawing, I did not think of going out and getting high or drunk," he explained, saying, "Art gave me a little purpose — I really liked seeing the small progression, and it inspired me to continue on this path while keeping me out of trouble." The artist has since celebrated 10 years of sobriety, being transparent and vocal about his journey via his social media platforms.
Now living a happy and purposeful life, the artist has achieved many successes, from collaborating with SLAM magazine to making his mark on the NHL. He has put in the work and is an inspiration to many, demonstrating that no matter where life takes you, through faith and perseverance you can achieve anything.