Bentley Continental Supersports Convertible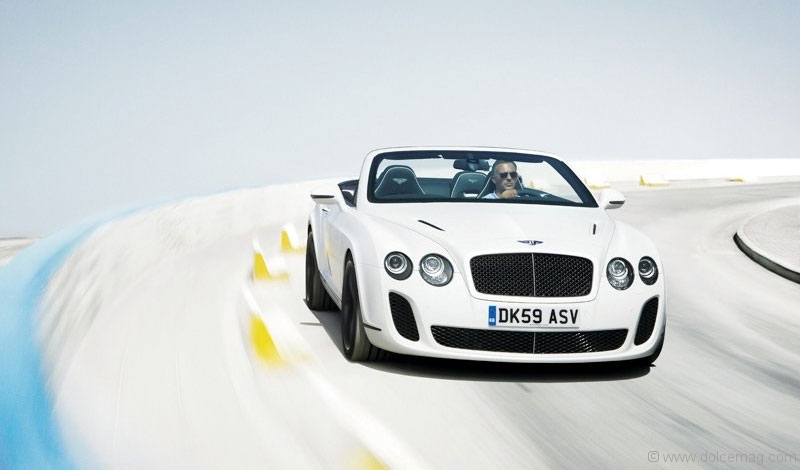 The 2011 Bentley Continental Supersports Convertible in North America exudes a certain, "I own the world" approach. This new model has taken the gloves off and slapped competition in the face. It's stylish, speedy, sexy and it just makes you want to drive it. Cars will cower and roadsters will weep. Upon acceleration, rivalry will transform into noticeably red-faced grimaces that will make any low-flying aircraft in the vicinity mistake them for pylons. At that point, you can whip around them with the Supersports' zero-to-100-km/h-in-3.9-second capability, which is pretty amazing for a car that weighs over 5,000 pounds.
Engineered to impress, the 2011 Continental Supersports is the fastest Bentley ever built for the road. It is also the fastest four-seat convertible production car in the world. Only at the track and on the autobahn will drivers be able to forget about Botox and receive a healthy facelift while chasing the speed of light with the Supersports' top speed of 324 km/h. So that's a 620-horsepower, twin turbocharged, W-12 Bentley engine that's able to produce 590 pound-feet of torque. It also runs on bio-fuel, petrol or any combination of the two. So if you show empathy for the environment and have roughly a quarter million dollars to spend on a vehicle, then look no further: this car's for you.
One of its inventive features includes a front end that is uniquely sculpted to allow for more airflow. The very enjoyable, newly designed and engineered air vents at the face of the automobile will help cool down the largest carbon ceramic brakes ever offered on a production car, which results in more traction to the front axle. Anyone with an eye for automobiles will note that every detail in the making has been meticulously measured.
In a move that reflects Bentley's staunch commitment to environmental engineering, the luxury brand has equipped all 2011 Continental models with FlexFuel technology. The Continental Supersports was the first Bentley designed with the ability to run on E85 bioethanol, gasoline or both. By FlexFuel technology extending its advanced properties to the new 2011 Bentley Continental Supersports Convertible, Bentley aims to significantly reduce the company's CO2 emissions, inevitably curbing its carbon track by 2012.
The interior design of supercars can often be too extravagant and downright uncomfortable, but the new Bentley is everything a car should be. It exists in the elite league of the supercar, it's stunning, and it seats four comfortably. The key word is comfort. Whether you're riding shotgun or seated in the rear cabin, the Bentley will provide ease and a high-quality passenger experience that will make you feel safe and sophisticated. The interior includes Alcantra leather lightweight racing seats, a 65 per cent leather gloss, and a "baseball" stitched design that truly makes you shine.
Without contest, this car can boldly be called one of Bentley's most refined creations. Its muscular exterior is complemented by a sensitive interior lined with classical elegance and flawless poise. While it lacks the pretentiousness of some of its competitors, Bentley's Continental Supersports convertible radiates the quiet confidence of its accomplished owner. When behind the wheel, the question of whether you are driving the car or the car is driving you remains irrelevant. Surpassing its seemingly unsurpassable predecessors is an act it self-effacingly chooses not to boast about.
The Bentley Continental Supersports is a leather wrapped heat-seeking cruise missile that will blow the minds of its drivers. Self-esteem comes standard, re-inventing the power-trip is an option, but most importantly, satisfaction is definitely guaranteed. www.bentleymotors.com