Jaguar XKR-S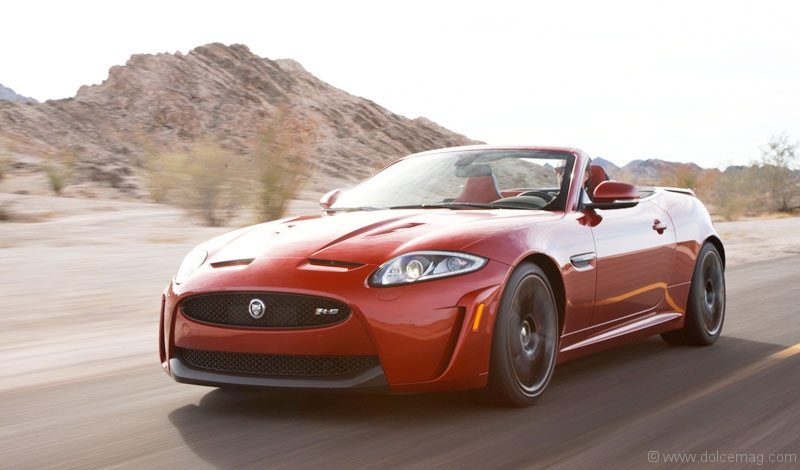 Earlier this summer Jaguar announced it would be discontinuing its grand touring line of XK coupes at the end of this year, and after spending time behind the wheel of the powerful XKR-S, in many ways, it's quite a shame. Not only is this car immensely pretty and charming, it's also blisteringly quick and exhilarating to drive — a Jekyll-and-Hyde situation that gives this car a certain appeal you can't ignore. It may be riding off into the sunset, but the XKR-S isn't going away quietly.
I had the opportunity to drive the XKR-S at the AJAC TestFest in 2011 and it was a clear standout even among a field of high horsepower and rubber-burning machines. The sheer ferocity bellowing from that supercharged V-8 was something rarely seen from the generally prim-and-proper luxury British brand, and it was hard not to be swayed by its unique looks, awesome power and spine-tingling wail. So on a crisp autumn day, I had the treat of getting behind the wheel of the 2015 XKR-S convertible for one last rip.
But let's just get the criticisms out of the way. The XKR-S is a four-seater, but the space behind the driver and passenger is so shallow no decent-sized human would be able to fit back there. Space is almost non-existent; so much so, you have to wonder why they bothered with a backseat at all. The trunk, too, isn't overly spacious, and the infotainment system is dated.
But who cares? This car is all about the driving experience, and the XKR-S delivers in spades.
As soon as you press the push-button ignition, the XKR-S growls to life, foreshadowing what this beast can do on an open road. The snarling 5.0-Litre supercharged V-8 constantly makes is presence known and its baritone drumming is a backtrack you'll never tire of.
The V-8 puts a fear-inducing 550-hp and 502 lb.-ft. of torque at your feet, making this Jaguar's most powerful production sports car. When you drop the hammer, the XKR-S charges from 0-100 km/h in just 4.4 seconds. Its handling is tight and sharp, and digs in hard in the corners. And when combined with Jaguar's massive 15-inch brakes, the XKR-S gives you the confidence to push it that much harder. This car is just mean and quick and an absolute joy to drive.
While the XKR-S sounds and behaves like an axe-wielding maniac, it does so with style and elegance. Inside, there are nice touches, such as the 16-way power adjustable seats and a suede steering wheel — a unique addition and something you won't find on too many rivals. This car, along with Jaguar's other latest creations, also looks like nothing else on the road. It's a harmony of sporty and edgy, handsome and classy. The XKR-S also distinguishes itself from the base model with slimmer headlights, a smaller grille, twin air-intakes on its new bumper, a carbon-fibre rear diffuser and spoiler. With it's long front end, oval grille and balanced profile, the XKR-S stands out as one of the most charismatic sports cars on the market.
What's more, the XKR-S — and much of the vehicles from Jaguar's recent renaissance — does something that all great luxury sports cars should: makes you feel special. Sure, Porsche, BMW, Mercedes and the like all make great cars that are fast and good-looking, but there are also so many of them on the road. With a Jaguar, you have something that is distinct and unique. You have to make a double take when one passes by, to scratch that "what is that?" itch.
Which is why it's difficult to see this one go. With the success of Jaguar's true sports car, the F-Type, which has taken a huge bite out of the XK's sales, and with the British brand championing its new, higher-volume XE model, the XK no longer makes sense from an economic standpoint. So, while we may be saying farewell to the XK, Jag enthusiasts still have the stunning new F-Type. And there's nothing wrong with that.
General Specs
Engine: 5.0-L supercharged V-8
Horsepower: 550
Torque: 502 lb.-ft.
0-100 km/h: 4.4 seconds
MSRP: $139,000