Gil Dezer – When Porsches fly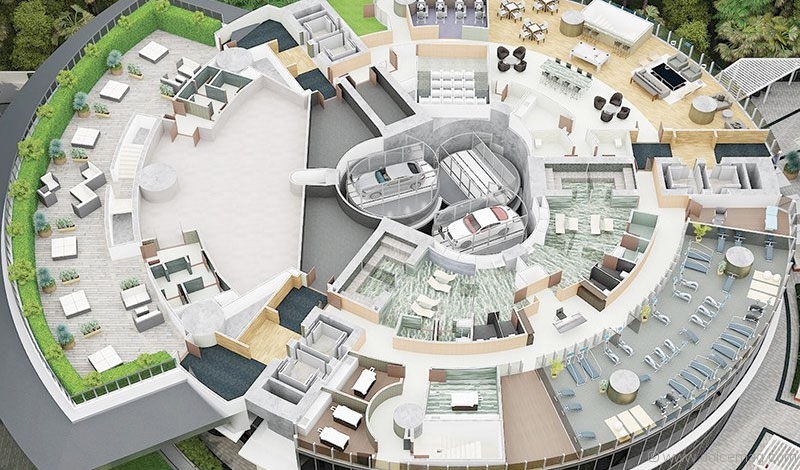 Meet Gil Dezer, the man who's making Porsches soar 60 storeys above the ground.
Looking at the renderings of the Porsche Design Tower, it looks like something out of a sci-fi film. Really, it's surreal. The tall, cylindrical structure is stunning and sleek, almost extraterrestrial-looking, but it's the interior plans that are getting the design world talking.
Gil Dezer, president of Dezer Development, is one of the youngest developers I've ever sparked a conversation with, and he's also one of the most important. The South Florida-based mogul has worked on a slew of world-renowned projects, among them being his collaborations with the infamous Donald J. Trump, the Trump Grande Ocean Resort and Residences and Trump Towers in Sunny Isles Beach. But when I ask what his proudest achievement has been thus far, he doesn't list any of his past buildings — he names the one that's set to open its doors this summer.
"The Porsche Design Tower is my pièce de résistance," he says on the phone from his office in South Florida. "We've done a lot of firsts in that building, from the car elevator that takes you in your car to your apartment to the plunge pools on every single balcony. We have amenities in there that you've never seen before, like race-car and golf simulators.It's an amazing playground of a place you're going to move into and never want to leave."
Evidently, Dezer likes a good collaboration — he's also working with Carlos Rosso at The Related Group to erect the ultra-luxe Residences by Armani/Casa in 2018 — and this partnership with the Germany-based Porsche Design Group promises to be one of his most iconic matchups yet. But while he thrives in partnering with the world's biggest brands to make good things happen, that's even more the case when he teams up with philanthropic initiatives.
When he's not busy bringing a building into existence or spending time with his young children, Dezer is devoting his time to a few poignant causes. He's one of the founders of the Mount Sinai Medical Center Foundation in Miami Beach and is a Young President of the Miami Heart Institute. And then there's the Florida Friends of the Israel Defense Forces (FIDF) that he's a member of, and that cause especially hits home.
"It's karma," he says. "Life has been good to me and you get to see others that are misfortunate, specifically with the FIDF. These are young kids who go to war to protect not just the state of Israel but Judaism as a whole. I'm Jewish, so that's important to me."
Listening to Dezer speak about his work both in and out of the office, it's obvious to me that he really does love his job. He relishes in watching his revolutionary buildings come to life, in seeing the awe in the faces of South Florida as their skyline continues to evolve with Dezer-made skyscrapers.
"I'm not here for fame or anything like that — I'm a very simple guy," he says. "I don't mind being in the background and having these brands on my buildings. We just closed a buyer on a unit and he was telling me, 'Oh, I thought that Donald Trump built those buildings.' And that works for me."
Photos Courtesy of Dezer Development