Design & Real Estate Highlights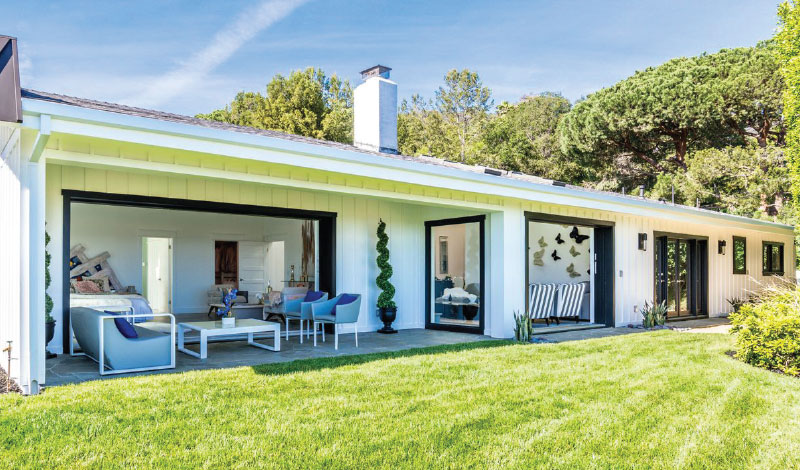 DESIGN
1. 18013 Sea Reef Drive, Pacific Palisades
With the backdrop of the seemingly endless crystal-blue ocean, this Pacific Palisades property is over 17,000 square feet of paradise. The property is ideally positioned, with views spanning from Santa Monica Bay to Catalina Island. Its classic interior is just as awe-inspiring as its exterior. Drawing inspiration from picturesque views and the laid-back coastal lifestyle, Janet Vargas the visionary behind L.A.-based Azul Staging has executed a design in sync with the property's surroundings. Vargas has injected oceanic elements and colours both subtle and bold into every room. The signature wall in the house assumes a coastal theme, as a blue-lit core held between two glass planks transports you to the serene depths of the Pacific. The theme continues throughout the home, from lighting to accents and accessories − Vargas leaves no shell unturned. The warm embrace of the Californian sunshine runs throughout the home, thanks to an abundance of skylights. This four-bedroom home is inviting, with a spacious and airy vibe by way of high ceilings and a stunning open-concept design. The home is listed with the Beverly Hills-based realtors Smith & Berg with Partners Trust, and Sewit Eshetu of Rodeo Realty.
www.azulstaging.com
www.18013seareefdrive.thepartnerstrust.com
www.sewitproperties.com
2. Basalt And Porcelain
Europe-based decorative lighting firm Tala recently launched its Basalt and Porcelain collections at Euroluce 2017. The event is dedicated to showcasing the latest and greatest in home lighting solutions. These Basalt and Porcelain products come in various designs, work well with other fixtures and achieve the perfect balance of light output. The slim and sleek Basalt and Porcelain lighting products will be ready for production this summer.
3. Pizzaville Liberty Village
Since 1963, the Contardi family has striven to maintain Pizzaville's treasured Italian roots through traditional recipes, quality ingredients and a family-oriented ambiance. Today, the brand aims to uphold the same commitment to the quality of its interior design. It's been just over a month since Pizzaville opened shop in downtown Toronto's Liberty Village, and this location is notably different from its franchise counterparts, thanks to designer Inna Shaulsky. With this location, Pizzaville draws inspiration for its aesthetic from the surrounding industrial environment. Shaulsky has introduced gorgeous tree-trunk tabletops, sleek, polished concrete floors and even an authentic Italian gitoni table. The design incorporates a perfect balance of exposed brick and imported materials, like gorgeous restored woods from Asia. To further honour the historical ambiance of Liberty Village, Pizzaville has replaced its standard stainless-steel shelves with wrought-iron ones and introduced fun accent pieces throughout.
4. Mashambas Skyscraper
Mashambas Skyscraper received first-place honours at the 2017 Skyscraper Competition. The development plan proposes a linked and accessible skyscraper, which will serve as an educational centre and marketplace for new farming communities in sub-Saharan Africa. In part, the vital purpose of this development is to increase agricultural opportunities within these regions, in an attempt to curb hunger and promote sustainability.
5. Bisha
A new luxury lifestyle-hotel brand is set to open its flagship location in Toronto this summer. Bisha's 44-storey structure is set to double as a cultural hub as well, with public spaces such as a 24-hour café, a rooftop bar and restaurant, and an infinity pool. Leathers, quality textiles and natural stone will be used throughout the interior of the building. In addition to 96 luxury boutique-hotel rooms, there will be 355 residential suites within the complex.
6. Balloon Concerto
This digital art piece created by Italian graphic designer and artist Federico Picci offers viewers a visual representation of music and sound. Picci shows music in physical form as balloons emulate the ascending and descending notes.
7. 11 Howard
Soho-based hotel 11 Howard is a 221-room structure infused with Danish minimalist artwork and a Copenhagen-meets-New York feel. 11 Howard keeps it subtle and simple in its design, without extravagant colours or furnishings. A portion of the hotel's revenue is donated to the Global Poverty Project, a nonprofit aimed at reducing extreme poverty.
REAL ESTATE
André Kutyan is a real estate sales representative for the Robert Greenberg Team of Harvey Kalles. Kutyan is a top producing sales representative within the Greater Toronto Area and an associate of the Chairman's Club.
Q: What is your forecast of the real estate market? Will the market cool off?
There are numerous factors contributing to market growth moving forward. We are currently experiencing a perfect storm of events, which include a of lack of housing supply, historically low interest rates and high demand (both local and foreign). When combined, these forces heighten unprecedented growth in the housing market. Unless one or more of these factors change, there is only one direction for GTA real estate in the long run: upward. With the provincial government's recent announcement of new housing measures, there is potential for a slight cooling or leveling of the market. Consumer perception of the effects of these new measures may stall things temporarily, but it is unlikely to achieve the government's desired outcome.
Q: What can buyers do to protect themselves in this market?
First-time homebuyers are going to experience the most difficulty in this market. Many have a fear of missing out; however, my advice to them is to purchase a home or condo only if it's needed. They should not spend more than they can afford, nor should they assume that a first home or condo is forever. A first-time homebuyer should purchase whatever is within their means today, and their maximum timeline for living there should not exceed five to ten years. Once they are in a better financial position, their second home can be more long-term. For current homeowners, it is prudent to purchase a home prior to selling. Given that inventory is so minimal, there is always the risk of not finding what you want and being left homeless.
Q: Do you believe Toronto is in a housing bubble?
I do not believe Toronto is in a housing bubble. Instead, it is more of a boom. There is no question that price-to-income ratios are incongruent, and therefore, affordability is a real issue in this city. However, Toronto is a growing metropolis, which is attractive on the world stage. According to the Government of Canada, Ontario admitted 110,015 permanent residents in 2016, which represents approximately 37.12 per cent of the country's total immigration (296,340). It is safe to assume that most of these people have settled in the Greater Golden Horseshoe (mainly Toronto and the surrounding suburbs). With this type of influx, the GTA's population will grow by another million people in less than 10 years. If housing is expensive now, wait until 2026.