Q&A WITH CHRISTIAN LACROIX'S SACHA WALCKHOFF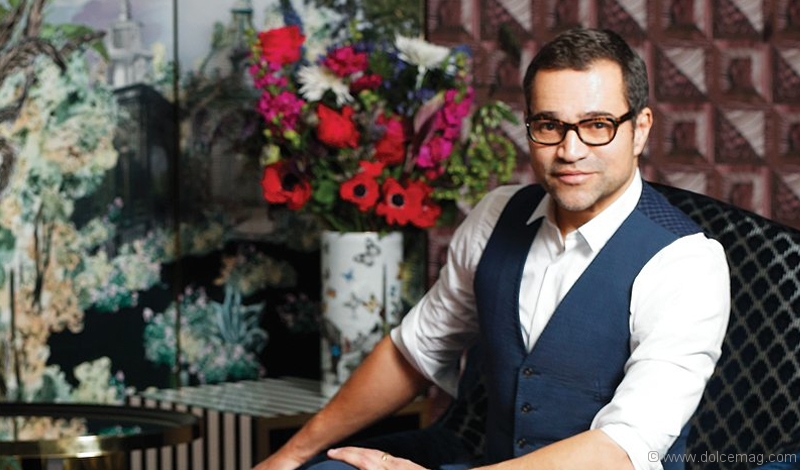 Flamboyant, luxurious and elegant, Christian Lacroix's first furniture line in collaboration with Roche Bobois celebrates a "French art de vivre"
Q: What type of materials can be found in the Christian Lacroix Maison furniture line?
A: It's a collection with a lot of high-end details: rosewood, 18-karat-gold-pleated brass, cut velvet and silk satin — all materials that are exquisite.
Q: What was the inspiration that drove you while designing this collection?
A: I had this mad idea to mix and match different eras, details and topics. To give you an idea, the shapes are clean and inspired by the '60s but the luxurious materials are inspired by the '30s. The lacquered wood-printed panels are sometimes a bit like in the '50s or otherwise like in the '70s, but all this on the same piece. I also added to this collection a few ideas that are part of the Lacroix DNA. The chairs are shaped like haute couture atelier mannequins, the black-and-white striped satin is the exact same fabric that was used for the "Cigale" dress, which was presented in our first haute couture collection in 1987, and the 19th-century engravings represent the monuments of Arles, the hometown of Christian Lacroix himself, and the town where painter Vincent van Gogh became famous.
Q: Who does this furniture line cater to, and why?
A: It caters to people around the world who are looking for something special. I've always been attracted and inspired by the works of artists who invented les arts décoratifs. From Eileen Gray to Armand-Albert Rateau or more recently François-Xavier Lalanne, Élisabeth Garouste and Mattia Bonetti, among many others — their work and vision are timeless and internationally admired. I thought it was a lovely path to follow to build this new project.