Black Lives Matter And Colin Kaepernick: Protests in Courage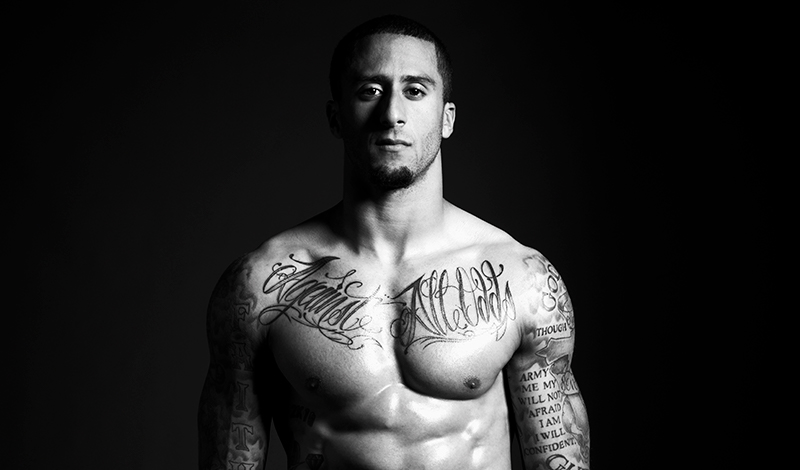 With social issues being complicated, complex, controversial and sometimes polarizing, the simple taking of a knee was a powerful symbolic statement BLACK LIVES MATTER.
Bravery can be demonstrated in many ways and it can come in many shapes and sizes — some big and some small. In a preseason National Football League (NFL) game in August 2016, San Francisco 49ers quarterback Colin Kaepernick did something small — which grew into something huge — becoming a symbol of a global movement for change: Black Lives Matter.
Kaepernick simply did not stand for the American national anthem. And by not standing, he stood up for something much bigger than himself.
He didn't kneel, either, at least not at the beginning. His No. 7 jersey sat on the bench — alone — while the rest of his teammates stood for the American national anthem, traditionally played before sporting events in the United States.
"I am not going to stand up to show pride in a flag for a country that oppresses Black people and people of colour," Kaepernick said in a post-game interview. "To me, this is bigger than football, and it would be selfish on my part to look the other way. There are bodies in the streets, and people getting paid leave and getting away with murder." He was referencing a series of African-American deaths caused by law enforcement that led to the Black Lives Matter movement and said he would continue to protest until he felt like "the American flag represents what it's supposed to represent."
Kaepernick's protests were widely interpreted as being in solidarity with Black Lives Matter and came at a key time for the movement. When examining both Black Lives Matter and Kaepernick, it is important to understand how two separate movements, evolving on parallel tracks — one protesting for a cause and the other symbolizing a movement — began and became so closely linked.
Black Lives Matter was founded in 2013 by activists Alicia Garza, Patrisse Cullors and Opal Tometi as an organized movement dedicated to non-violent civil disobedience in protest of police brutality and to raise awareness of racial inequality and injustice. It was formed with the hashtag #blacklivesmatter on social media after the acquittal of George Zimmerman in the shooting death of Black teenager Trayvon Martin in February 2012, and it now has 30 chapters worldwide. Today, the phrase "Black Lives Matter" can refer to a Twitter hashtag, a slogan, a social movement or a loose confederation of groups advocating for racial justice.
"I Have Decided To Stick With Love. Hate Is Too Great A Burden To Bear" — Dr. Martin Luther King Jr.
Black Lives Matter issues can be complicated, complex, controversial and potentially polarizing. Perhaps it was the pure simplicity of Kaepernick's knee which captured it so well and made the Black Lives Matter message so instantly recognized and understandable.
In the following pre-season game, Kaepernick kneeled during the American national anthem to show more respect to former and current U.S. military members, while still protesting the anthem. He continued to do it for every game, and, inspired by Kaepernick, other NFL players and pro athletes conducted various forms of silent protests during the American national anthem. The NFL experienced an eight per cent decline in viewership during that 2016 season, with the No. 1 reason, cited by 30 per cent of fans in a J.D. Power survey, being the player protests.
The momentum grew, given Kaepernick's high profile as one of the biggest stars in the game. The highly touted quarterback burst upon the league in 2012, with a memorable combination of arm strength and running ability, baffling defences and leading the 49ers back to the Super Bowl for the first time in a generation, in 2013, where the team lost a close game to the Baltimore Ravens. However, his go-for-broke style eventually led to injuries, and Kaepernick lost his starting job shortly thereafter. And when San Francisco hired a new coach who wanted a more conservative offensive approach, Kaepernick remained on the bench, where he continued his kneeling protests.
Had his protests come at any other time, Kaepernick may have made the 12 seconds at the end of ESPN's SportsCenter. But this was fall 2016, in the final stretch of a divisive U.S. presidential election campaign, and one of the candidates saw opportunity born from controversy. Republican nominee Donald Trump's campaign shrewdly thought it could create a wedge issue by falsely stating Kaepernick's kneeling was showing disrespect to the American flag, which would appeal to Trump's base of ultra-conservative, flag-waving voters who regularly attended his rallies. And despite Kaepernick repeatedly saying that his protests were about police brutality and racial injustice, a presidential candidate has a louder megaphone and a brighter spotlight than an athlete.
Sports and social protesting aren't strangers, with a history that goes back more than 50 years, when American boxer Muhammad Ali refused induction into the U.S. Army, because he disagreed with America's involvement in the Vietnam War. "I ain't got no quarrel with them Viet Cong," said Ali famously in refusing the draft. He was stripped of his heavyweight crown at the height of his powers and barred from boxing in the U.S. for three years, making his comeback to regain the title in 1974 even more legendary.
Both Ali and Kaepernick were protesting for the greater good and potentially sacrificing their athletic careers in the process. Perhaps they were inspired by the words of Dr. Martin Luther King Jr., who once said, "Every man must decide whether he will walk in the light of creative altruism or in the darkness of destructive selfishness."
Ultimately, Kaepernick's career met the same fate as Ali's, aided and enabled by the NFL owners, the vast majority of whom are white billionaires with considerable business interests and many of whom were Trump supporters. For them, Kaepernick had become toxic. He was now a politically polarizing figure, who, to put it harshly, was quite simply "bad for business." Kaepernick had been effectively blackballed by the NFL and hung out to dry for four long years at the height of his powers. In 2017, he filed a lawsuit accusing league owners of collusion to keep him out of the league, but in 2019, he reached a confidential settlement with the league and withdrew the grievance.
"Not By The Colour Of Their Skin, But By The Content Of Their Character" — Dr. Martin Luther King Jr.
Both Kaepernick and Black Lives Matter have recently returned to international headlines and prominence during the worldwide protests over the police killing of George Floyd. Once again, as they did in the 1960s, leadership and change are coming from the young through peaceful protests, as Dr. King Jr. would have wanted. In the face of presidential tweets, it is helpful to remember the contrast of Dr. King Jr.'s words when he said, "I have decided to stick with love. Hate is too great a burden to bear."
While Black Lives Matter features prominently during these protests, these are not Black protests, these are people protests, with many protesters, police forces and government leaders taking a knee, just like Kaepernick did in his simple act of bravery. In June 2020, NFL commissioner Roger Goodell issued an apology saying, "the National Football League should have listened to its players" when they protested four years ago, but he was chastised for not mentioning Kaepernick by name. He quickly tried to recover by encouraging an NFL team to give Kaepernick a tryout. It was further evidence of the seismic shift in public and institutional attitudes that is now taking place; however, it is notable that no NFL owner has yet made any public statement.
While Kaepernick looked good in a November 2019 workout he staged that was attended by seven NFL teams, he is 32 years old, having been out of the game for four years now, and success is not guaranteed. Nonetheless, most NFL observers predict that should the NFL season go ahead this fall, almost every player will kneel during the American anthem. The protests are extending to other sports, notably, the National Basketball Association, and in the English Premier League's mid-June 2020 return to play, every player on the Manchester City and Arsenal teams had their names replaced on their jerseys with "Black Lives Matter."
The world has stepped up to this line of racial and social injustice many times before. Inspired by such change-makers as Black Lives Matter and Colin Kaepernick, will we cross it for real change this time? But something does feel different now. Something has changed. It is palpable, it is organic — it is a living thing.
Dr. King Jr. dreamt there would, one day, be a world where his children would be judged "not by the colour of their skin, but by the content of their character." Perhaps the dream has now finally come alive?